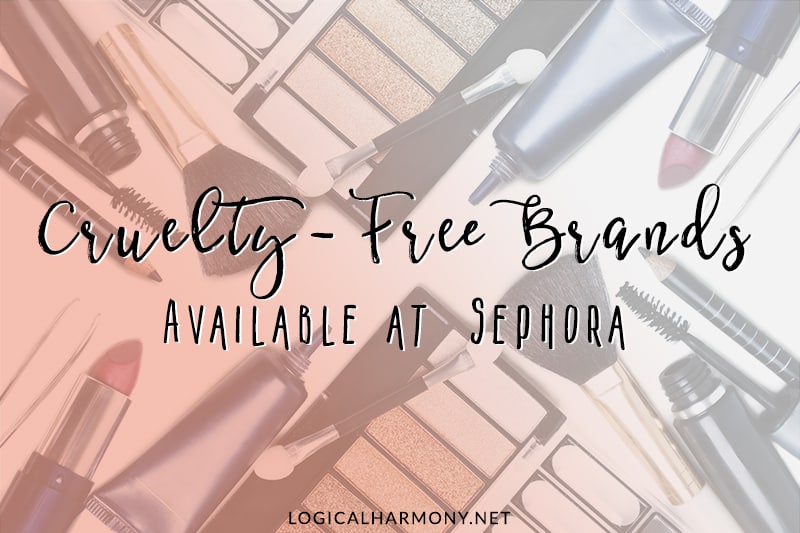 Finding cruelty-free brands at Sephora is a struggle for many. For many consumers, big stores like Sephora are one of the main places where they purchase cosmetics, skincare, and hair care. Being aware of the cruelty-free brands at Sephora can be a challenge. Sephora carries so many brands and it can be a little overwhelming to figure out which are cruelty-free and which are not.
Thankfully, this list of cruelty-free brands at Sephora will help make shopping easier for you!
All of the brands listed here are cruelty-free and are also sold at Sephora. They are free of any animal testing and all of them have vegan options. Just as with the Cruelty-Free Brand List, it is noted next to a brand if they are owned by a company who tests on animals. It is also noted if they not only a cruelty-free brand, but are also a 100% vegan brand.
Want to take this list with you? Scroll down to get a printable PDF and a mobile-friendly version!
Cruelty-Free Brands at Sephora:
Sephora does carry cruelty-free brands and, for those who shop there, I think that it is important for them to know which brands are the best to support. Please note that the house line of cosmetics sold at Sephora is not cruelty-free. Sephora does have stores in China, where animal testing is required by law. For those who decide to not purchase items from Sephora, you can always go into the store to look at the cruelty-free brands and cruelty-free products in person, take home samples, and then order online directly from the brand itself.
Sadly, the list of brands that are not cruelty-free is long. If you are looking to purchase only cruelty-free brands at Sephora, you should avoid the following brands: Benefit Cosmetics, Bobbi Brown, Boscia, Caudalie, Clinique, Estee Lauder, Glamglow, Sephora Collection, and more. Check out the brands to avoid list to view other brands that are not cruelty-free.
Other cruelty-free shopping guides:
Sign up for Ebates and get cash back on your cruelty-free purchases from Sephora.
Editor's Note: By using the affiliate links contained in this post you are helping to support Logical Harmony as we may receive a commission on purchases made (with no added cost to you). This helps keep Logical Harmony running, and we appreciate your support.