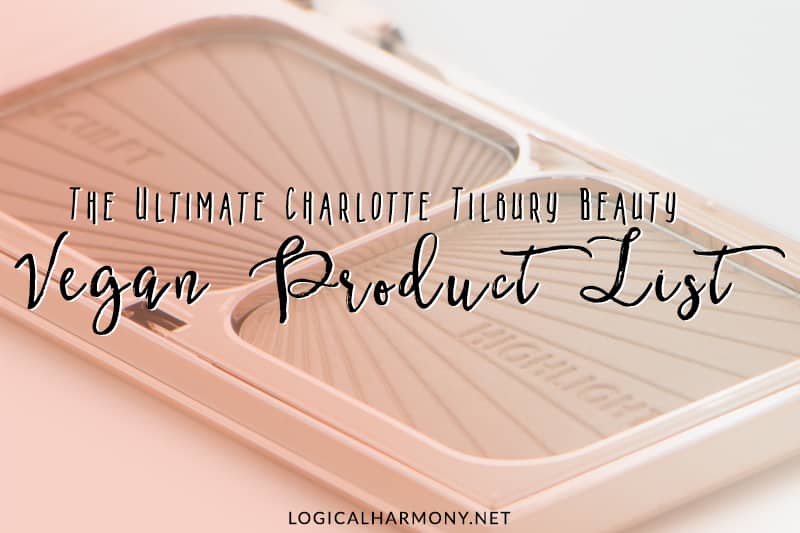 Charlotte Tilbury is known for their high-end, luxurious, and high-quality products. But, Charlotte Tilbury is not very well known in the cruelty-free beauty community. A lot of people are surprised when they found out that not only is Charlotte Tilbury cruelty-free, but that there are a lot of Charlotte Tilbury vegan products as well.
Many readers of Logical Harmony have requested a list of Charlotte Tilbury vegan products. I talked to Charlotte Tilbury Beauty about the ingredients they use and worked with them to create this list of the Charlotte Tilbury vegan products.
This is the most recent update of a post I originally published on September 15, 2015.
The Charlotte Tilbury vegan products are:
Charlotte Tilbury is a wonderful cruelty-free brand and I love that they have so many vegan options available! My personal favorite Charlotte Tilbury vegan products are the Film Star Bronze & Glow in Light to Medium and the Hot Lips Matte Lipstick in Kim KW.
Recently, some Logical Harmony readers have emailed me saying they are receiving mixed responses about these products from Charlotte Tilbury customer service. I talked to Charlotte Tilbury and have an important clarification.
As a brand, they want to be very careful about what the term "vegan" means. If products are made on shared equipment with animal ingredients, may have been made on shared equipment, contain synthetic beeswax (of which theirs does not contain animal ingredients, but they do use the word "beeswax"), or use ingredients that were tested on animals by a supplier at some point in the past before a fixed cut-off date (as all ingredients have) they are hesitant to call them "vegan". This does not mean that these products contain animal ingredients of any kind, and the response received may vary depending on the customer service representative that you speak to.
Editor's Note: By using the affiliate links in this post you are supporting Logical Harmony! How does it work? When you purchase a product through one of these links Logical Harmony gets a small commission at no extra cost to you. This is a very large part of what keeps Logical Harmony running – Thank you!
Subscribe Here
We'll send you weekly recaps & more!