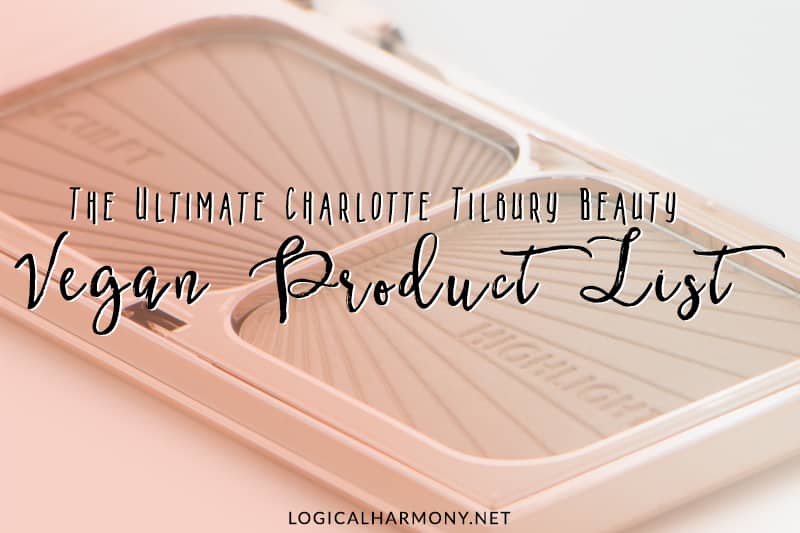 Charlotte Tilbury is known for their high-end, luxurious, and high-quality products. But, Charlotte Tilbury is not very well known in the cruelty-free beauty community. A lot of people are surprised when they found out that not only is Charlotte Tilbury cruelty-free, but that there are a lot of Charlotte Tilbury vegan products as well. Many readers of Logical Harmony have requested a list of Charlotte Tilbury vegan products. I talked to Charlotte Tilbury Beauty about the ingredients they use and worked with them to create this list of the Charlotte Tilbury vegan products.
This is the most recent update of a post I originally published on September 15, 2015.
The Charlotte Tilbury vegan products are:
Air Brush Flawless Finish Powder – all shades
Brightening Youth Glow
Brow Lift – all shades
Colour Chameleon – Amber Haze, Bewitching Black, Black Diamonds, Bronzed Garnet, Dark Pearl, Enchanting Indigo, Gold Digger, Golden Quartz, Mesmerising Mink, Smoky Emerald
Eyes To Mesmerise – all shades
FilmStar Bronze & Glow – all shades
Hollywood Beauty Light Wand
Hollywood Contour Wand
Hot Lips Lipstick – Bosworth's Beauty, Carina's Love, Electric Poppy, Hel's Bells, Hot Emily, Kidman's Kiss, Kim KW, Liv It Up, Miranda May, Nude Kate, Sexy Sienna, Super Cindy, Tell Laura
Instant Magic Facial Dry Sheet Mask (This mask does not contain carmine, and is vegan, but is made on shared equipment with other products that contain carmine. Charlotte Tilbury has confirmed that it is vegan and that they listed carmine on the ingredient list because it is an allergen and trace amounts may be on the mask. They were woried about people with an allergy to carmine using skincare made on shared equipment and having a bad reaction.)
KISSING Lipstick – Coachella Coral, Kiss Chase, Love Bite, Night Crimson, Nude Kate, So Marilyn, Stoned Rose, Velvet Underground
Legendary Brows – all shades
Light Wonder Foundation – all shades
Lip Cheat – Bad Romance, Berry Naughty, Crazy in Love, Foxy Brown, Hollywood Honey, Iconic Nude, Kiss 'n' Tell, Pillowtalk, Pink Venus, Savage Rose
Luxury Eyeshadow Palette – Dolce Vita, Fallen Angel, Golden Goddess, The Rebel
Magic Foundation – all shades
Matte Revolution Lipstick -1975 Red, Amazing Grace, Between the Sheets, Birkin Brown, Bond Girl,Glastonberry,  Lost Cherry, Miss Bloomingdales Lipstick, Miss Kensington, Red Carpet Red, Sexy Sienna
Mini Miracle Eye Wand – all shades
Nocturnal Cat Eyes Eyeshadow – all shades
Pocket Pouts
The Classic Eyeliner Powder Pencil – all shades
The Retoucher Concealer – all shades
For some products where not all shades are vegan, such as the lipsticks, a shared ingredient list is used. Carmine or other ingredients may appear listed after "+/-" or "may contain". This means that some shades contain those ingredients, but not all shades in the line do. The shades listed above are all vegan and free of any animal ingredients.
Charlotte Tilbury is a wonderful cruelty-free brand and I love that they have so many vegan options available! My personal favorite Charlotte Tilbury vegan products are the Film Star Bronze & Glow in Light to Medium and the Hot Lips Matte Lipstick in Kim KW.
Editor's Note: By using the affiliate links in this post you are supporting Logical Harmony! How does it work? When you purchase a product through one of these links Logical Harmony gets a small commission at no extra cost to you. This is a very large part of what keeps Logical Harmony running – Thank you!
Subscribe Here
We'll send you weekly recaps & more!