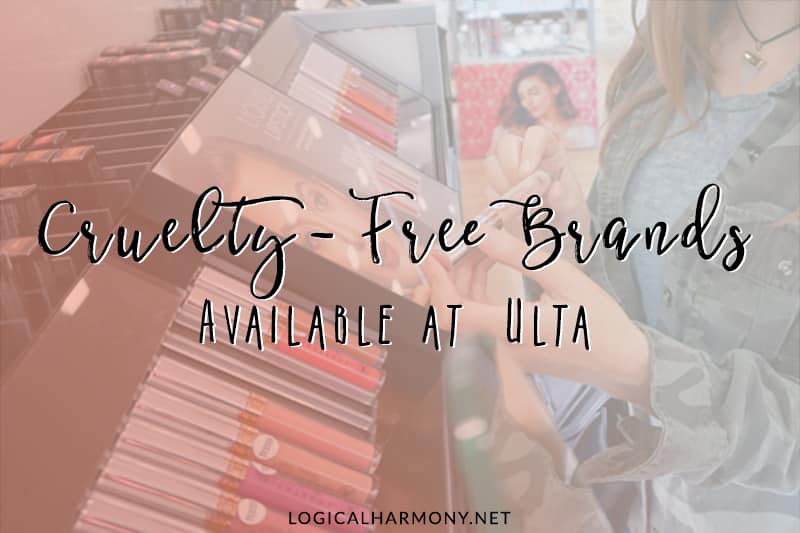 Trying to figure out what the cruelty-free brands at Ulta are? This guide can help! For many beauty lovers, big chain stores like Ulta are one of the main places where we purchase cosmetics, skincare, and hair care. Ulta is unique in that they carry both high-end and drugstore brands. This makes it easy to do a lot of your beauty shopping in one place. Being aware of the cruelty-free brands at Ulta can be a challenge simply because they carry so many brands.  In an effort to make things easier for consumers,  we wanted to create and share this list of cruelty-free brands at Ulta.
Take this guide of cruelty-free brands at Ulta with you the next time you go to an Ulta store (details on how to do that are in the post!) or reference it for easy online cruelty-free shopping!
This is the most recent update of a post I originally published on October 31, 2014
All brands included here are sold at Ulta. They are cruelty-free, which means free of animal testing, and they all also have vegan options to choose from.
Just as with the Cruelty-Free and Vegan Brand List, it is noted next to a brand if they cruelty-free but are owned by a company who tests on animals. It is also noted if they are not only cruelty-free but also a 100% vegan brand.
Want to take this list with you? Scroll down to get a printable PDF and a mobile-friendly version!
The Cruelty-Free brands at Ulta are:
Another great thing about Ulta is that they do not sell in China, where animal testing is required by law, and their house line is also cruelty-free.
Other cruelty-free shopping guides from Logical Harmony:
Editor's Note: By using the affiliate links contained in this post you are helping to support Logical Harmony as we may receive a commission on purchases made (with no added cost to you). This helps keep Logical Harmony running, and we appreciate your support. Thank you!