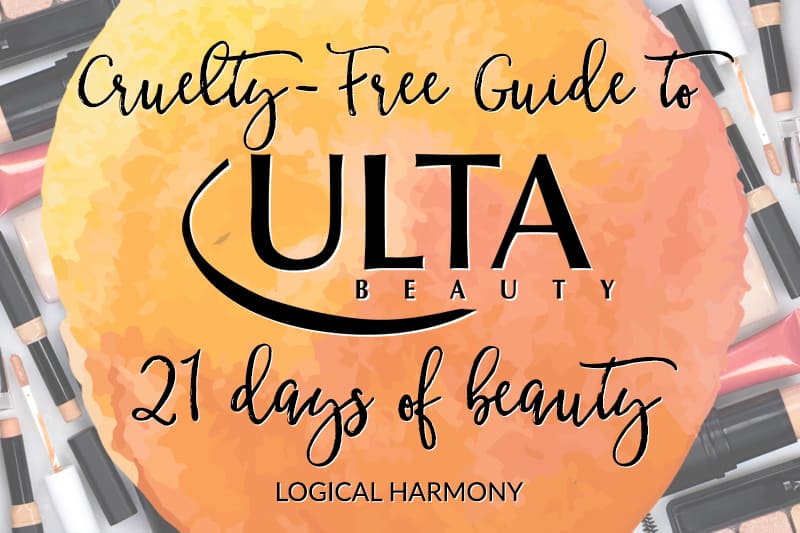 Shopping  the Ulta 21 Day of Beauty sale and want to find the cruelty-free options? Logical Harmony has you covered!
Here's your Ulta 21 Days of Beauty Cruelty-Free Guide to help you easily navigate the upcoming Ulta 21 Days of Beauty sale!  Each day a couple of selected products are discounted up to 50% off and available until they sell out. The products in the sale range from new arrivals to cult classics, so they sell out fast. There are a lot of cruelty-free brands at Ulta, and thankfully quite a few of them are included in the Ulta 21 Days of Beauty sale.
To help you prepare for the Ulta 21 Days of Beauty event, I put together this guide so that you will know what days offer cruelty-free brands and what the vegan options available are. Happy shopping!
This guide is for the Ulta 21 Days of Beauty sale that starts on Sunday, September 1 and goes until Saturday, September 21.
Did you know that you can sign up for Rakuten and get cash back on your cruelty-free purchases from Ulta? Ebates is really easy to use and it really does work. It can also be used at Sephora, ELF, Target, … So many other online retailers. If you're already doing some shopping, why not get some cash back?
Ulta 21 Days of Beauty Cruelty-Free Guide
Monday, September 2nd
Tuesday, September 3rd
Wednesday, September 4th
Thursday, September 5th
Friday, September 6th
Saturday, September 7th
Sunday, September 8th
Monday, September 9th
Thursday, September 12th
Saturday, September 14th
Sunday, September 15th
Monday, September 16th
Tuesday, September 17th
Wednesday, September 18th
Thursday, September 19th
Friday, September 20th
Saturday, September 21st
Editor's Note: By using the affiliate links in this post you are supporting Logical Harmony! How does it work? When you purchase a product through one of these links Logical Harmony gets a small commission at no extra cost to you. This is a very large part of what keeps Logical Harmony running – Thank you!