Charlotte Tilbury Magic Foundation
Recently I received the Charlotte Tilbury Magic Foundation from the brand. I love trying out new foundations and this cruelty-free and vegan foundation has been on my wishlist for some time. Thank you so much to Charlotte Tilbury for letting me try it out!
I've been using the Charlotte Tilbury Magic Foundation often and am excited to share my thoughts with you on this cruelty-free foundation. You can pick it up from Charlotte Tilbury directly or from Beautylish, Nordstrom, or Cult Beauty.
Some of the products I'm wearing for this cruelty-free makeup look are:
Is Charlotte Tilbury Cruelty-Free?
Charlotte Tilbury is cruelty-free!
Does Charlotte Tilbury make vegan products?
Yes! You can find a full list of Charlotte Tilbury Vegan Products here on Logical Harmony.
Charlotte Tilbury Magic Foundation Claims:
"Boosts collagen to reduce the appearance of age spots by 75% in just 4 months and the appearance of acne after just 9 weeks! Concentrated mushroom extract firms your skin as well as moisturizing and tightening your pores with Vitamin C fights any signs of ageing. Hyaluronic Filling Spheres plumps up your wrinkles for firmer looking skin. Ideal for flawless, poreless coverage, especially if you struggle with melasma, acne, or rosacea."
Cruelty-Free Makeup Details:
My Thoughts on the Charlotte Tilbury Magic Foundation:
While I haven't been using the Charlotte Tilbury Magic Foundation long enough to be able to attest to all of the claims about skincare benefits, I can say that this is truly a magic foundation. It has great coverage that looks super smooth and flawless. It wears well throughout the day. It covers imperfections. It's also hydrating and feels very lightweight. The Charlotte Tilbury Magic Foundation is quickly becoming one of my favorites!
Some of the best-selling Charlotte Tilbury vegan products are: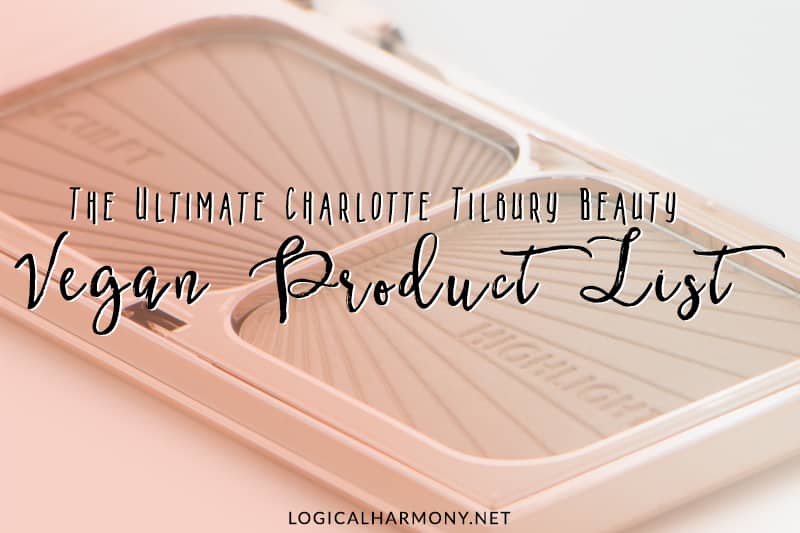 Editor's Note: Some of the product(s) featured in this post were provided by a representative of the company named in this post for editorial consideration. Please note that all reviews are 100% honest and a product would not receive a favorable review unless it provided favorable results. By using the affiliate links in this post you are supporting Logical Harmony! How does it work? When you purchase a product through one of these links Logical Harmony gets a small commission at no extra cost to you. This is a very large part of what keeps Logical Harmony running – Thank you!