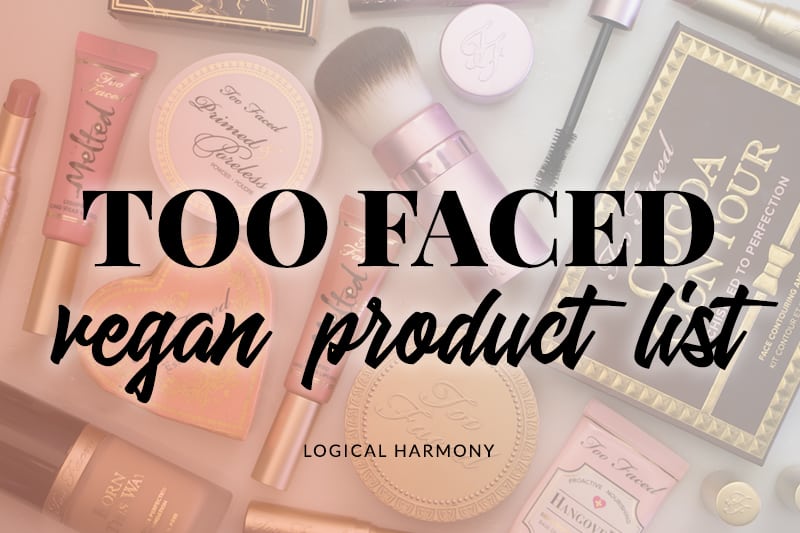 Many readers of Logical Harmony have requested a Too Faced vegan products list. Too Faced has long been known as a cruelty-free brand, but many people don't realize how many Too Faced vegan products there are. Using this guide from Logical Harmony, you can easily find the Too Faced vegan products. In fact, you may be surprised at just how many products and shades are vegan-friendly.
Through a series of long talks with the Too Faced team, they shared this list of vegan-friendly items with the readers of Logical Harmony. I'm really excited to be able to share this list with you!
Some of the most popular Too Faced vegan products are:

This is the most recent update of a post I originally published on February 24, 2015.
Is Too Faced cruelty-free? Yes! Too Faced is cruelty-free.
Too Faced is cruelty-free! They do not test on animals at any point, nor do they hire any 3rd parties to test on animals on their behalf.
As of November 2016, Too Faced is now owned by Estee Lauder. While Too Faced is going to remain a cruelty-free brand and is committed to their cruelty-free stance, Estee Lauder is not cruelty-free. There are a lot of different opinions about supporting cruelty-free brands that are owned by a parent company that tests and I believe this is a choice individuals should make for themselves.
Does Too Faced have vegan products? Yes! Too Faced has vegan products.
Not only is Too Faced cruelty-free, but too faced has plenty of vegan options!
Too Faced vegan products:
Too Faced vegan makeup brushes:
Some of the most popular Too Faced vegan products are:

Sign up for Ebates and get cash back on some Too Faced purchases at some of the retailers included in this post, as well as TooFaced.com.
Editor's Note: By using the affiliate links in this post you are supporting Logical Harmony! How does it work? When you purchase a product through one of these links Logical Harmony gets a small commission at no extra cost to you. This is a very large part of what keeps Logical Harmony running – Thank you!