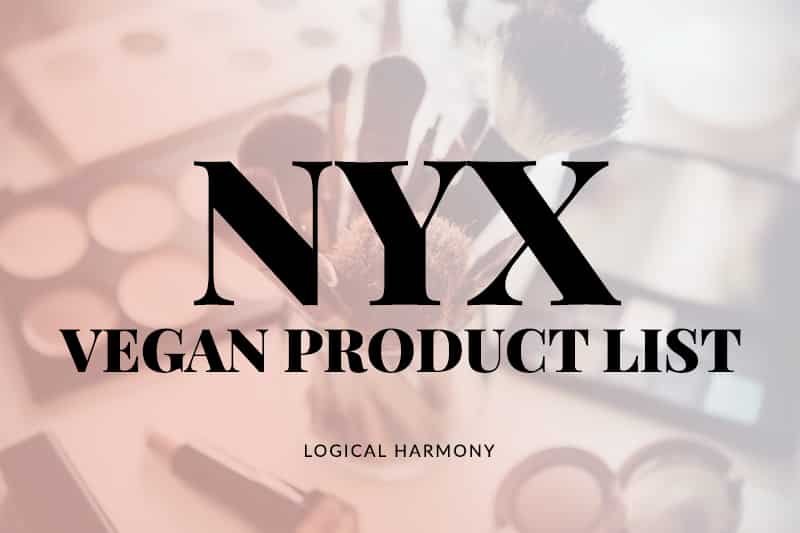 Are there any NYX vegan products? This guide from Logical Harmony will help you find out!
NYX is cruelty-free, and for several years they have said that they do not have any vegan options. This recently changed and they are now able to confirm what products are vegan-friendly! Because I get so many questions about this popular drugstore brand and Ulta favorite, I wanted to create a list of NYX vegan products  to help anyone who is interested. NYX is really easy for many people to get. Not only do they have their own stores, but they are found in most drugstores too.
In an effort to make shopping easier, I wanted to create this guide to help anyone with questions about the NYX vegan products!
Popular NYX Vegan Products:

This is the most recent update of a post I originally published on March 3, 2018. Last updated on November 23, 2019.
Is NYX cruelty-free? Yes!
Yes. NYX is a cruelty-free brand. None of their products are tested on animals, at any point, by any parties. They also do not sell in any markets where animal testing is required by law.
NYX is owned by L'Oreal and, unfortunately, L'Oreal is not cruelty-free and does test on animals. There are a lot of different opinions about supporting cruelty-free brands that are owned by a parent company that tests and I believe this is a choice individuals should make for themselves.
Are any NYX products vegan? Yes!
Yes. Thankfully, NYX is not only cruelty-free but they also have lots of vegan options too.
NYX does use some animal and animal-derived ingredients in some products such as carmine, beeswax, and others. Below are options listed that do not contain any animal or animal-derived ingredients.
NYX Vegan Products:
Because NYX has only recently announced that they have vegan products and some have been reformulated, please check ingredient lists on the packaging before buying in stores to ensure that the specific product(s) you are purchasing are vegan as some previously did contain animal or animal-derived ingredients.
In order to make the NYX vegan products list easier to navigate, it is split up into sections based on the product type.
NYX Vegan Face Makeup:
NYX Vegan Eye Makeup:
NYX Vegan Lip Products:
NYX Vegan Makeup Brushes & Skincare:
NYX Vegan Nail Products:
What are your favorite cruelty-free and vegan products from NYX?
Popular NYX Vegan Products:

Editor's Note: By using the affiliate links in this post you are supporting Logical Harmony! How does it work? When you purchase a product through one of these links Logical Harmony gets a small commission at no extra cost to you. This is a very large part of what keeps Logical Harmony running – Thank you!