My Small Dining Room Makeover & Tour with Article!
Today I'm sharing my small dining room makeover with you! As previously mentioned here on Logical Harmony, I plan to keep adding more bits of lifestyle content. I had shared my living room with you and sharing my dining room seemed like a great fit too. I'm so excited to be partnering with Article on this blog post – thank you for sponsoring it, Article!
After working with Article on my living room, it felt like such a natural fit when they wanted to work together again on my dining room. The two rooms share a lot in common – they are small spaces and I wanted them to be functional despite the small size. They are also directly across from each other, so I really wanted to create a space that flowed well together.
I'm really excited to share my dining room tour with you! I'm just so happy with how it turned out. Similar to the living room, I started with a blank slate. After we moved to Utah I didn't want to bring things into our home unless they were something I loved. This meant lots of meals at the coffee table, but I was okay with that compromise until I found a way to make the dining room an area I loved.
The dining room is small and the main struggle was that I wanted a functional space with cute articles in it. Most dining table sets would take up so much of the room that nothing else could go in there. I wanted to be able to have friends over for drinks and dinner, and feel like it was more than just a room for table. Most of the small articles I did find just weren't my style and didn't feel "right" in the space.
There were a few things I was looking for:
I wanted modern and classic look with sleek design elements.
I wanted to have fun with colors and textures that would allow my personality to come through.
I wanted articles that were classic and unique. I didn't want the same dining setup that I've seen a million times.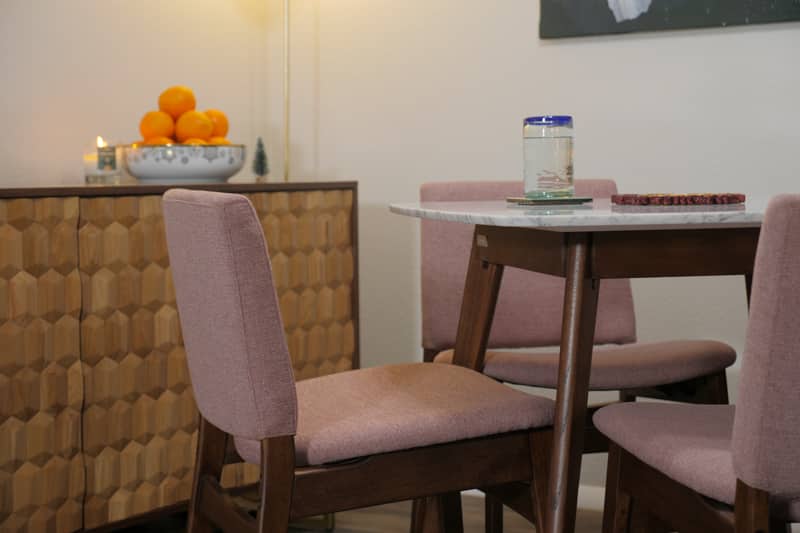 Color-wise, I wanted articles that tied in with the living room. I wanted to stick to neutral colors but wanted to add in some texture to things. While the living room is white, grey, pink, and gold the colors I wanted to focus on were rich walnut shades of wood, dark green, white, gold, and pops of pink.
I also wanted a way to easily incorporate a lot of the thrifted items I've picked up like these bamboo trays and shot glasses. I've always loved vintage touches and wanted furniture that would compliment things I pick up here and there. I almost picked up a ship in a bottle and now I am regretting it a little because I feel like it could have been so cute on this shelf too.
Having worked with Article to create my living room, working with them on the dining room seemed like such an amazing collaboration. I knew this meant I could find a mix of everything I was looking for in dining room furniture, and have it be a cohesive space with the living room.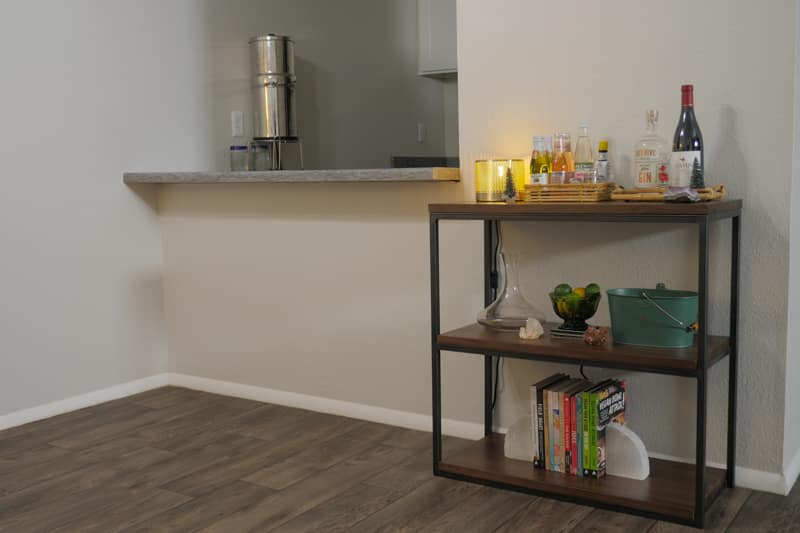 One of the things I wanted in my dining room was an article that would give me a bar-cart feel but still allow for some storage. The Archive Bookshelf in walnut seemed like the perfect fit. Mine is 32" in height, which works perfectly next to the kitchen pass-through. I love the warm veneered American black walnut and the blackened steel frame. I feel like it makes it the perfect balance of cozy and industrial.
The top of my Archive Bookshelf is set up as a small bar area, including the Perforate Table Lamp in brass. I love the subtle light this lamp gives off. It's really similar to candlelight in warmth but a bit brighter.
I also love the unique style of it. It's black cord is hidden well by the blackened steel frame of the bookshelf, and it works with a wide range of LED bulbs. I think it's such a unique lamp and perfect for those wanting to add more subtle light to any space. The other shelves have bar accessories, cookbooks, and crystals. I want to keep it simple.
For the actual dining table, I picked the Vena Cafe Table in walnut. I loved this one because it's small enough for the space, lets us seat 4 people, but is truly unique. I liked the square shape because I felt like it was more versatile in the space and would give everyone a little more space while seated.
The top is 14mm solid white sealed marble. Since marble is a natural stone material, each one is truly unique due to changes in color tone, vein markings and surface texture. No two tables will be the same and I love that about this table. I also love the contrast of the marble top and the solid oak legs.
When it came to the dining chairs, I wanted to have some fun. There are so many classic styles of dining chairs on Article and I love that they offered fun colors too. I ended up picking the Nosh Chair in berry pink and walnut.
I wanted chairs that were a comfortable addition since I plan to have meals at the table, but also game nights. I love that the Nosh Chairs are padded and use a down-alternative filling and wool-free fabric. This makes them a great vegan-friendly dining room chair set for this small dining room makeover.
I love that the pink helps tie the dining room in with the living room (where pink is an accent color). Just like in the living room, I was also able to pick articles with down-free filling and the tweed-like upholstery is wool-free, making it vegan-friendly. The nubby fabric is so pretty. I love that it's not a flat color because of the fabric texture.
Plus, the fabric ties in really well with the Ceni Sofa and Ceni Armchairs in the living room. It has solid wood legs and they perfectly match those of the Vena Cafe Table.
I loved the Moon Floor Lamp, which I got in gold, to add more light to the room. There's a big overhead light in there, but it doesn't create cozy light which I really wanted. It's made from hand-blown glass, which means there may be small differences like air bubbles in each one. Every Moon Floor Lamp is unique from the rest. It works with a wide range of LED bulbs too.
Because I wanted to add as many unique details as part of my small dining room makeover, this lamp seemed perfect for the room.
While the stand is gold, the cord is black and has a switch on it. I like that this keeps the stand sleek.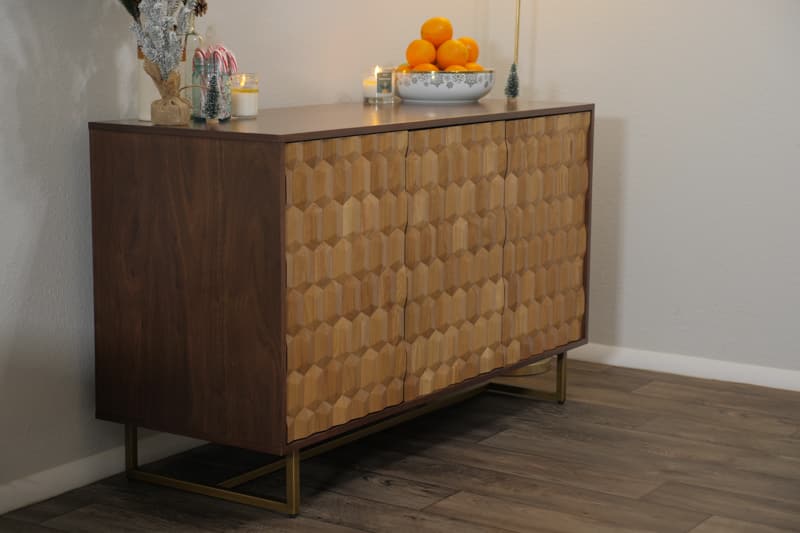 The article I was most in love with from the get-go is the Geome Sideboard. Once I saw it, I knew it had to be mine as part of this small dining room makeover. I basically put the rest of the room together around this article. I absolutely love the mix of solid oak and veneered walnut. Especially with the brass metal legs.
The pattern on the front of the push-to-open doors is gorgeous. I love how unique it is and that it helps to add some texture to the space. The inside has adjustable shelves, so I can really fit a good mix of things inside.
Our kitchen doesn't have much storage, so this makes it a perfect place to store everyday dishware and some of my special dishes too. There are also two cord cutouts on the back. I love that this gives me options for what I store inside it in the future.
I still need to figure out what to put on the wall by the lamp and above the sideboard, but I feel like the right piece will eventually be found. I'm not in a rush because I want to be sure whatever goes there is something I'll love and want in my dining area long-term. Once the holiday season ends, I'll be adding some other touches to the top as well. I have a couple of thrifted vases on it currently that can stay there year-round, but will be on the lookout for some other pieces too.
A few more things about Article:
Article offers free ground shipping on orders over $999.
For orders under $999, Article offers a flat shipping fee of $49 (or $19 for small shipments). Choose from affordable upgrade options for in-room delivery and assembly.
Article offers a 30-day satisfaction guarantee so you can try out your new furniture in your home. If you're not completely happy, they'll pick up the furniture and provide a refund, minus the delivery and pickup charges which is $49 in most cases.
Justin painted the wall art for me and I love how it fits in the space! The colors are perfect and, just like the articles, I love that it's unique. I feel like my small dining room makeover came together perfectly. You can watch the video below to see the space too.
I really love how my dining room turned out. It's the perfect mix of style and function that I wanted, and I love that I was able to find articles that reflect my personality and taste. Thank you so much to Article for working with me to create this amazing space!
There are tons of other options on article.com too. In addition to the articles in my dining room, they made lots of other dining room styles, living room styles, articles for your bedroom, and articles for outside of your home as well.
Thank you so much for coming along on this tour! If you have any questions, please leave them in the comments and I'll answer!
Editor's Note: This is a sponsored conversation written by me on behalf of Article. The opinions and text are all mine. Products featured in this post were provided by a representative of the company named in this post for editorial consideration. Please note that all reviews are 100% honest and a product would not receive a favorable review unless it provided favorable results.