My Living Room Tour & Makeover with Article Vegan-Friendly Furniture!
Recently we moved to a new house, in a new city, in a new state. It seemed like a great time to start creating more lifestyle content, and I'm really excited to be partnering with Article to create my dream living room! I had a vision in mind and they provided some amazing articles to help me make it a reality.
It's been a while since things here on Logical Harmony got personal, and I'm excited to do more of that in 2019. You'll continue to see all the same content focused on cruelty-free beauty, but I'll be adding in more personal posts and lifestyle posts as well. I'm really excited to share my living room tour with you! I'm just so happy with how it turned out.
Working from home, it can be tough to have a space that's the perfect mix of style and function. Especially when it's a small space like what we have. It can also be really hard to unplug from work when you work from home. Everywhere becomes a workspace I really wanted to have an area where work was optional and the main function was relaxing, reading a book, being with the cats, and just spending some time unplugged.
Having lived in shared spaces for the past couple of years, the living room was never our space and nothing in it was ours. Even prior to that, I had never made it a space that I loved being in because I spent so much time in my office. Now that it's just us in our own space, I really wanted to make it my own and make it a space we loved spending time in.
Starting with a completely blank slate gave me a lot of options. We moved here with no living room furniture aside from a plant stand and a small wicker side table I got at a garage sale. I had a few small home accessories, but nothing that would anchor the room and tie things together. Honestly, having an empty room made it so easy to really picture what I wanted and how I wanted my living room to come together.
When I started to think about how I wanted my living room to look and feel, a few things really stood out to me:
I wanted neutral pieces that I could change over time with pops of color, texture, and pattern using accessories.
I wanted modern and classic with sleek design elements.
I wanted articles that were free of animal materials such as wool and down.
I wanted articles that would be easy to clean and easy to move in the future.
I wanted articles that were classic but also unique. I didn't want the same sofa and coffee table that everyone has.
Most of all, I wanted pieces that would grow with me and my style in the future. I've had so many "it works for now" set-ups and I've never felt attached to them. The rooms never truly felt comfortable and I rarely found myself spending time there.
I wanted that to change by picking articles that would stand the test of time, and grow with me as my life changes in the future. I think you can probably relate to this on some level as I know many of you are in similar life stages.
Color-wise, I wanted to stick to neutrals with lots of grey and white. I wanted to be able to add in patterns and pops of gold and pink. I already owned an area rug, a few pillowcases, planters, and blankets that fit with this color scheme to put in the room too. I also love having plants in my home and wanted to be able to add in as many as I wanted to in the space.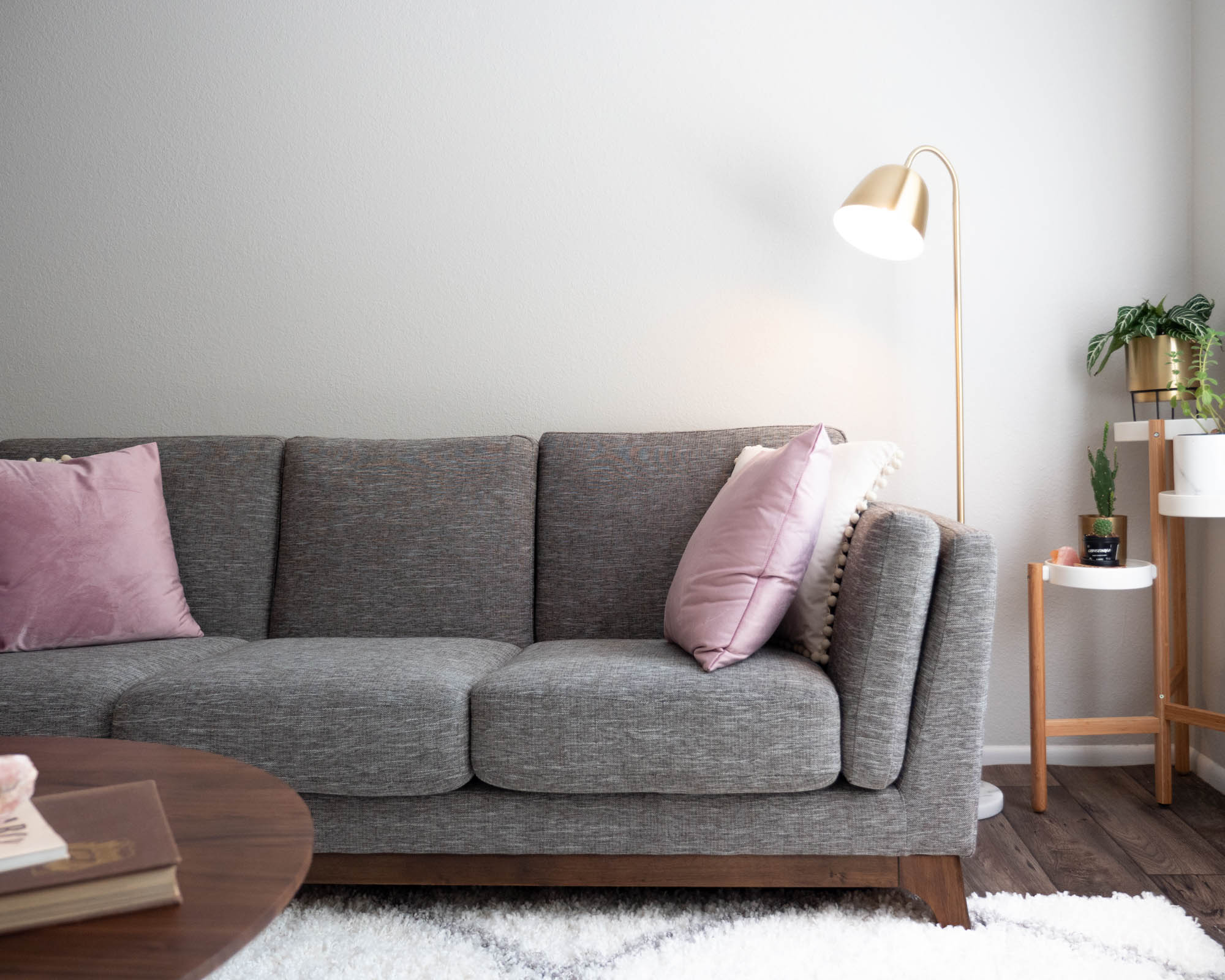 I had spent a lot of time browsing around online stores and Instagram for inspiration, and Article kept coming up in my IG feed. I loved that their modern aesthetic fit the style I was looking for. I am really excited to have worked with them to create this room because I was picturing articles from them in the space already.
When I saw the Article Ceni sofa and Article Ceni armchairs I felt like they were exactly what I was wanting. I always wanted a sofa with matching arm chairs and everything about the style of these was what I wanted – clean design lines, modern design, neutral in color, detachable seats and cushions, and plush seats.
I was even more excited when I found out that they have down-free filling and the tweed upholstery is wool-free, making it vegan-friendly. I love the walnut wood on the base and feel like they are the perfect anchor for everything else in the living room.
Next to the Ceni sofa is the Lissom lamp. I love the shade of brass because it perfectly matches some planters that I have in the living room. It has a circular marble base which helps make it sturdy, but also matches some marble planters I have in the living room too. I love how warm this makes the room feel. It gets a good amount of natural light, but I wanted soft light to add to it and this is perfect.
The Amoeba coffee table was also perfect to help anchor the room as it's also made from walnut. I almost went with a rectangular coffee table, but I am so glad that I didn't. In the end, this round coffee table makes the room flow so much better. I love that it's substantial in size but also not too big. It's the perfect article for the room.
In between the Ceni armchairs I wanted another table to make things just a bit more functional. Having another surface made more sense to me than putting a big plant there. When I saw the Silicus table I knew it was the one I needed in this space. I love the shade of pink and love that it helps add a bright pop of color to that side of the room. I put the Cado lamp, which matches the floor lamp, on top for extra cozy light. I also love how it helps connect the two sides of the room too.
A few more things about Article:
Article offers free ground shipping on orders over $999.
For orders under $999, Article offers a flat shipping fee of $49 (or $19 for small shipments). Choose from affordable upgrade options for in-room delivery and assembly.
Article offers a 30-day satisfaction guarantee so you can try out your new furniture in your home. If you're not completely happy, they'll pick up the furniture and provide a refund, minus the delivery and pickup charges which is $49 in most cases.
I am absolutely loving how my living room turned out! It feels like such a wonderful space to me now and I love spending time there. The cats love it and it's created the perfect space for Justin and I to spend together too. It made a small living room really feel like a home. I truly feel like I was able to check everything off my wishlist when it comes to these articles and the space as a whole.
There are tons of other options on article.com too. In addition to the articles in my living room, they made lots of other living room styles, dining room styles, articles for your bedroom, and articles for outside of your home as well. I'm already dreaming of what the next phase for other rooms in my home will be.
For vegan-friendly options, I can recommend the below — all of which are under $1,000!
Thank you so much for coming along on this tour! If you have any questions, please leave them in the comments and I'll answer!
Editor's Note: This is a sponsored conversation written by me on behalf of Article. The opinions and text are all mine. Products featured in this post were provided by a representative of the company named in this post for editorial consideration. Please note that all reviews are 100% honest and a product would not receive a favorable review unless it provided favorable results.