My Favorite Gold Earrings for Fall
When it comes to earrings, everyone has their own style. Some like really simple and classic. Others want super trendy styles. I tend to wear the same pair for months on end and recently wanted to break out of this habit. I have a handful of earrings that I love, but I wanted to add some new styles in to try out and see how they felt. When Nakturnal wanted to sponsor this post, I was really excited because it helped motivate me to get out of my comfort zone. This inspired me to share some of my favorite gold earrings for fall with you! I had been shopping around a lot and adding styles here and there to my wishlist, so this felt like a fun adventure to go on together.
In the photo above, I'm wearing this gold ear cuff and a pair of mini energy gems.
Some of my favorite gold earrings for fall:

First, I think it's good to start with my current collection and what I've had on rotation. Simple and dainty are likely the best words to summarize. For most of my life, I've worn mismatched earrings. I want more ear piercings, and love using ear cuffs to play with that idea, but currently only have three. One earring I always wear, and have for years and years, is a silver elephant stud. This won't be changing anytime soon, but I love mixing metals and honestly don't wear other silver jewelry.
My most worn pairs for some time have been these mini energy gems in amethyst. The brand did send me several pairs, but I have several I purchased as well. I love their new compliments collection too. Maybe it's my love of mismatched but complimenting "pairs".
Another store I've bought a lot of earrings and other jewelry from specializes in vintage jewelry from the 70s and it's a really fun place to find super unique pieces. They are especially great for dainty earrings. My favorites that I own from them are a pair of tiny gold shell studs and I have some tiny gold pretzel ones too.
Now that you see what my comfort zone is, I wanted to share what I have been branching out into with you and some gold earrings I'm loving for fall.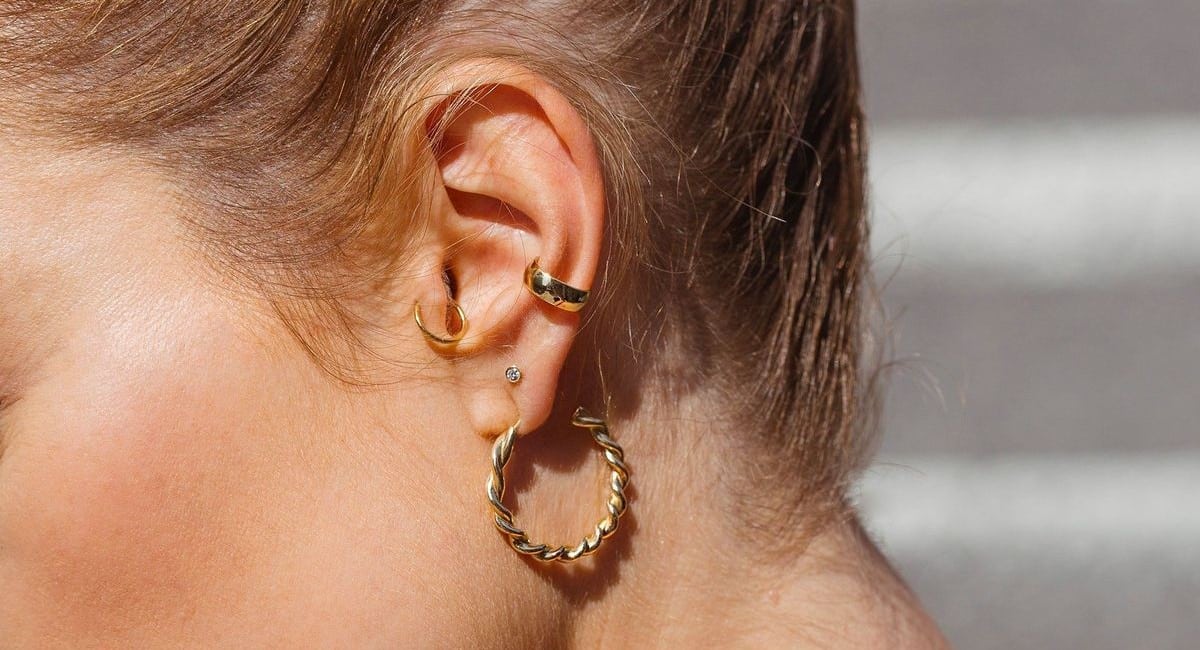 This gold ear cuff is one that I have been loving. The brand did send it to me and I love how it's the perfect mix of classic and trendy. I've been wearing it a lot and it's been a fun addition to my jewelry box. Plus, it helps me play more with the idea of adding more real piercings to my ear. This similar cuff with diamonds is also calling my name. I love that they let you choose between types of gold too. If yellow isn't your thing, most earrings are also available in rose gold.
I was also send these gold hoops and love them. They are simple and classic, but I love that they are an update on small gold hoops.
I love how these gold huggie hoops are small  but have rainbow jewels on them. I think it's a fun take on classic hoops.
Mixed sets are also a great way to work some fun styles into things too. I love that so many brands are coming out with a variety of matching and mismatched sets.
What are your favorite gold earrings for fall? I'd love to hear about the styles you're into and the shops you love! Comment and let me know!
Some of my favorite gold earrings for fall:

Editor's Note: Some of the product(s) featured in this post were provided by a representative of the company named in this post for editorial consideration. I received compensation for this post. Please note that all thoughts and opinions in this post are 100% honest and a product would not receive a favorable review unless it provided favorable results. By using the affiliate links contained in this post you are helping to support Logical Harmony as we may receive a commission on purchases made (with no added cost to you). This helps keep Logical Harmony running, and we appreciate your support.