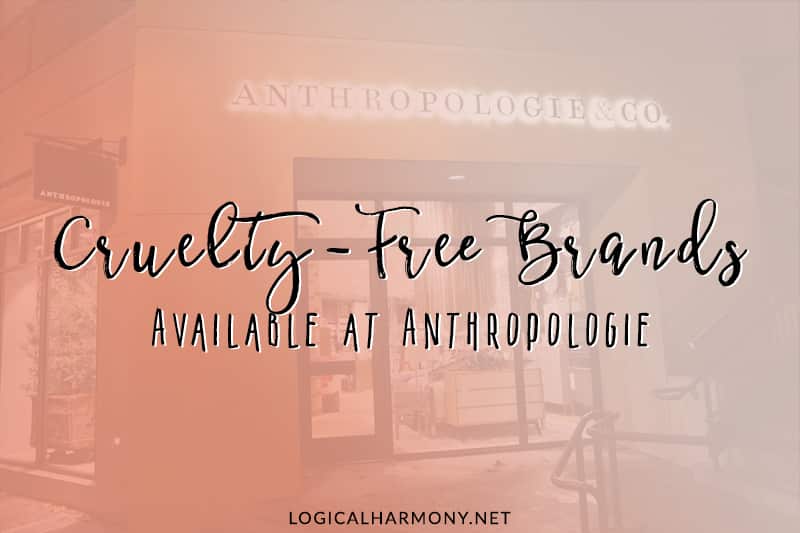 Are there cruelty-free brands at Anthropologie? You may be surprised! Both in stores and online, Anthropolgie is starting to carry a lot more cruelty-free brands. Even some of the most popular cruelty-free brands found at Sephora, Ulta, or Nordstrom. Because there are so many Anthropologie retail stores and a lot of people shop there for clothing or housewares, it is so helpful to see them carrying more and more cruelty-free brands as they expand their beauty departments.
Being aware of the cruelty-free brands at Anthropologie can be a challenge because there are so many brands available. This list will help make it easier for you!
Popular cruelty-free & vegan products at Anthropologie:

This is the most recent update of a post I originally published on October 4, 2017.
All of the cruelty-free brands included here are sold at Anthropologie either online or in store. They are completely cruelty-free and do not take part in any kind of animal testing. Just as with the Cruelty-Free Brand List, it is noted next to a brand if they are owned by a company who tests on animals. It is also noted if they are a 100% vegan brand.
 Cruelty-Free Brands at Anthropologie:
Popular cruelty-free & vegan products at Anthropologie:

Other cruelty-free shopping guides from Logical Harmony:
Editor's Note: By using the affiliate links in this post you are supporting Logical Harmony! How does it work? When you purchase a product through one of these links Logical Harmony gets a small commission at no extra cost to you. This is a very large part of what keeps Logical Harmony running – Thank you!