Too Faced is Having Their Semi-Annual Sale and There are Vegan Options!
A couple of times a year, the Too Faced semi-annual sale happens. This is a great time to stock up on some cruelty-free favorites or try something new from them. Since Too Faced is cruelty-free and has lots of vegan options, I wanted to create this easy guide for shopping the Too Faced semi-annual sale for you. It will take all the guess work out so you can know that you're picking up Too Faced vegan products. In some cases, all shades of a product are on sale and in others only specific shades are on sale.
Normally, you can pick up Too Faced from Sephora (shop all cruelty-free brands at Sephora), Ulta (shop all cruelty-free brands at Ulta), Cult Beauty (shop all cruelty-free brands at Cult Beauty), Beautylish (shop all cruelty-free brands at Beautylish) and more.
These sale prices are exclusive to the Too Faced website and last for only a few days, so place your orders soon! The current sale runs until March 15, 2019.

Image via Too Faced on Instagram. 
Is Too Faced cruelty-free? Yes!
Too Faced is cruelty-free! Too Faced is owned by Estee Lauder and Estee Lauder is not cruelty-free. I believe that everyone should decide for themselves how they feel about parent companies. At the end of the day, I would rather people purchase from a cruelty-free brand with a parent company that is not cruelty-free than purchase from a brand who tests on animals themselves. I encourage everyone who supports cruelty-free brands to let Too Faced and Estee Lauder know that being cruelty-free is important to you.
Does Too Faced have vegan products? Yes!
Not only is Too Faced cruelty-free, but too faced has plenty of vegan options! You can find a full list of Too Faced Vegan Products here on Logical Harmony.
Too Faced Semi-Annual Sale Vegan Options:
Want to save even more? Sign up for Ebates and get cash back on purchases on TooFaced.com! Ebates is super easy to use and gives you some cash back at loads of online retailers. If you're shopping online, why not get a little bit of what you're spending back?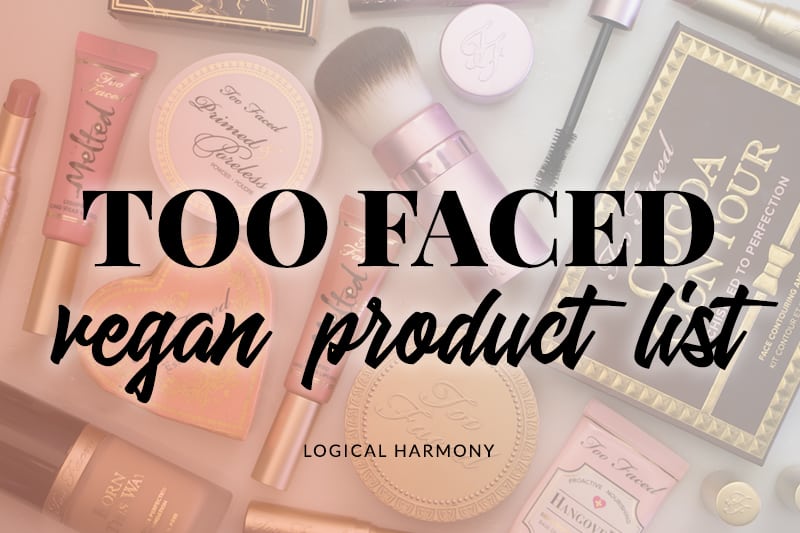 Editor's Note: By using the affiliate links in this post you are supporting Logical Harmony! How does it work? When you purchase a product through one of these links Logical Harmony gets a small commission at no extra cost to you. This is a very large part of what keeps Logical Harmony running – Thank you!