Lush Self-Preserving & Vegan Products

Lush is one of my favorite cruelty-free brands out there. Going to a Lush store is such a fun and unique experience, and I love that they have tons of vegan options. I've known that Lush had self-preserving products for a while, but I'll be honest and say that I never fully understood what this meant. I knew that some of them had a different formula than other products, but that's about it. Thankfully, the Lush team filled me in and I wanted to share this information with you.
There are also lots of Lush self-preserving products that are vegan too and I was happy to find out that I was already using a lot of them. Lush did send me some of the vegan self-preserving products and I'm excited to try out some new ones!
Is Lush cruelty-free? Yes. Lush is cruelty-free and does not test on animals.
Are any Lush products vegan? Yes! Lush is not only cruelty-free but also has lots of vegan options. They note these with a "V" on product packaging, in-store displays, and on product pages on their website. Thank you to Lush for making it so easy to find the vegan products!
What exactly does self-preserving mean?
It means that Lush is using natural ingredients for their Lush self-preserving products instead of synthetic preservatives. These ingredients have a skin care or hair care benefit too, but also multi-task and act to help preserve the products.
At first, the Lush self-preserving products were all solid products like the shampoo bars. But Lush has been able to expand and include a larger variety of self-preserving products like lotions, face masks, conditioners… It's exciting to see how many Lush self-preserving options there are! In the self-preserving products, less water is used. This can sometimes create a different consistency and feel thicker or more moisturizing. As of right now, over 60% of Lush products are self-preserving and lots of them are also vegan. There's also a post from them to help pick the best self-preserving products for your skin too.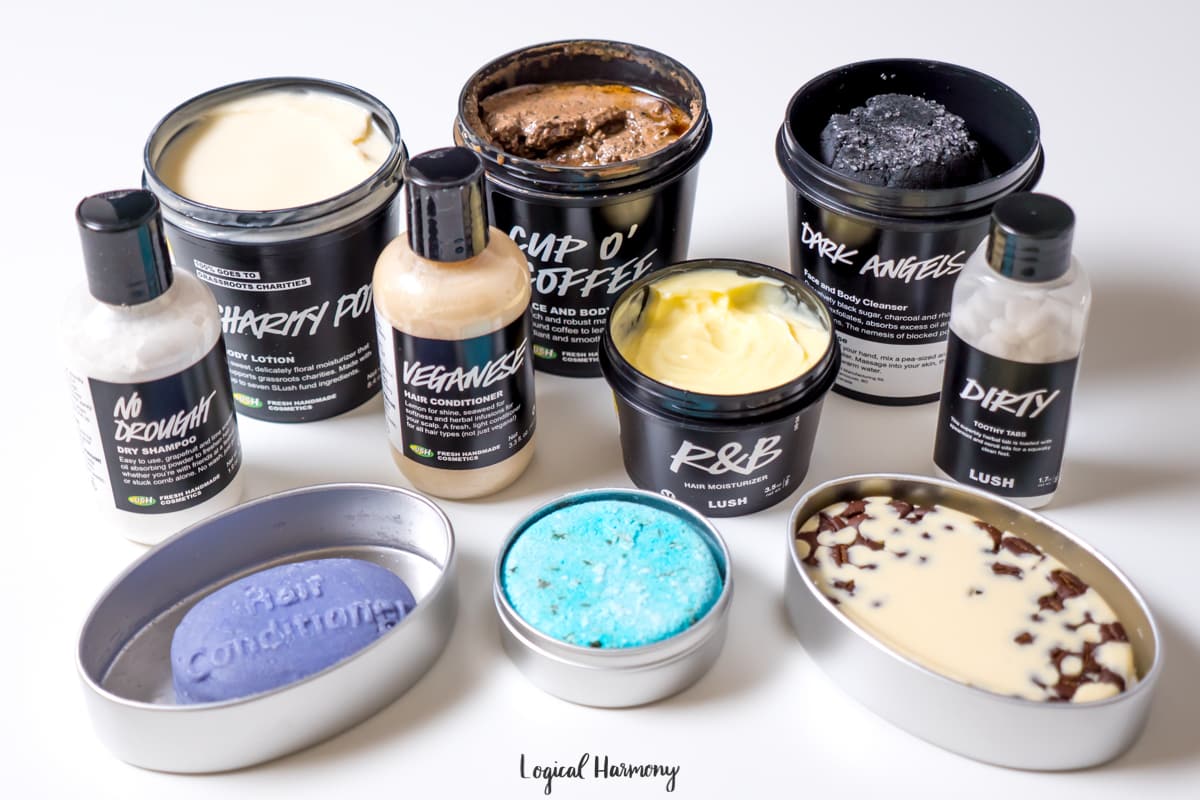 What is used in the Lush self-preserving products?
Cocoa butter
Cocoa butter is used in the Lush self-preserving massage bars, hot oil hair treatments, luxury bath oils, Golden Handshake hot hand mask, Sugar Daddy-O Solid Conditioner, and Rub Rub Rub Shower Scrub. Cocoa butter binds oil and water together, which can deter microbial growth. It also creates a barrier on the skin that locks in hydration, which makes it perfect for moisturizing products.
I personally love the massage bars and luxury bath oils and use them all the time! My favorites are the Percup massage bar (smells like an amazingly sweet cup of coffee), Wiccy Magic Muscles massage bar (perfect for sore muscles), and the Floating Island luxury bath oil. They all leave my skin feeling so smooth and soft. They are perfect for at home spa nights and times you really just want to pamper yourself.
Clays and powders
Clays and powders are used in the Lush self-preserving bath bombs, toothy tabs, tooth powders, No Drought Dry Shampoo, Silky Underwear Dusting Powder, Twinkle Toes Foot Powder, T For Toes Foot Powder, The Guv'ner Deodorant Powder, The Greeench Deodorant Powder, Magical Moringa Moisturizer and Full Of Grace Serum. The clays and powders absorb excess water, and this prevents bacteria growth. These ingredients also deep-cleanse the skin and absorb moisture when used in deodorants and dusting powders.
My favorite vegan self-preserving products using clays and powders are the bath bombs (obviously!) and No Drought Dry Shampoo. I have also heard that the Magical Moringa Moisturizer is a great makeup primer and have been meaning to give it a try. Some of my other favorites are Cup O' Coffee (which was in my 2016 favorites and my favorite face masks video) and Dark Angels. Both smell amazing and work so well with my skin. I always have them on hand.
Salt
Salt is used in Lush Big Shampoo, Self-preserving Ocean Salt Face And Body Scrub, and Rub Rub Rub Body Scrub. Salt draws water away from microorganisms, preventing them from growing inside our cosmetic formulas. It's also great for gentle exfoliation of the skin.
My favorite vegan self-preserving products using salt are the Big Shampoo and Self-preserving Ocean Salt Face And Body Scrub. Both smell amazing and work really well. They aren't harsh or drying at all. Big Shampoo and the Seanik shampoo bar are two of my favorite hair care products because they add so much volume and texture to my hair.
Vegetarian glycerin
Glycerin is used in the Charity Pot Hand And Body Lotion, Self-preserving Dream Cream Hand And Body Lotion and African Paradise Body Conditioner. Glycerin is a great natural way to preserve products because it naturally protects the formula from going bad. It's also a great way to add some extra moisture to your skin.
My favorite vegan self-preserving products using vegetable glycerin are the Charity Pot Hand And Body Lotion and Self-preserving Dream Cream Hand And Body Lotion. Both are so hydrating and leave my skin feeling so soft. They are great lotions if you suffer from dry skin. I especially love that Lush uses proceeds from the Charity Pot sales to help various causes and charities around the world.
What are my favorite vegan Lush self-preserving products?
Honestly, I had no idea that so many Lush products were self-preserving. Some that I reach for often are the Floating Island luxury bath oil, Cup O' Coffee Face and Body Mask (which I use several times a week),  Seanik shampoo bar (I am currently on my second), and the bath bombs. Don't ask me to pick just one bath bomb because I'm not sure that I can do that. I love that I was able to try some new self-preserving products too. Thank you so much to Lush for making me more aware of the natural preserving ingredients. As a consumer, I think it's important to understand what ingredients in your products are doing. I love that these ingredients are not just helping keep the products fresh, but also make them more effective.
What are some of your favorite Lush self-preserving products? Which ones would you most like to try?
Editor's Note: Some of the product(s) featured in this post were provided by a representative of the company named in this post for editorial consideration. Please note that all reviews are 100% honest and a product would not receive a favorable review unless it provided favorable results.