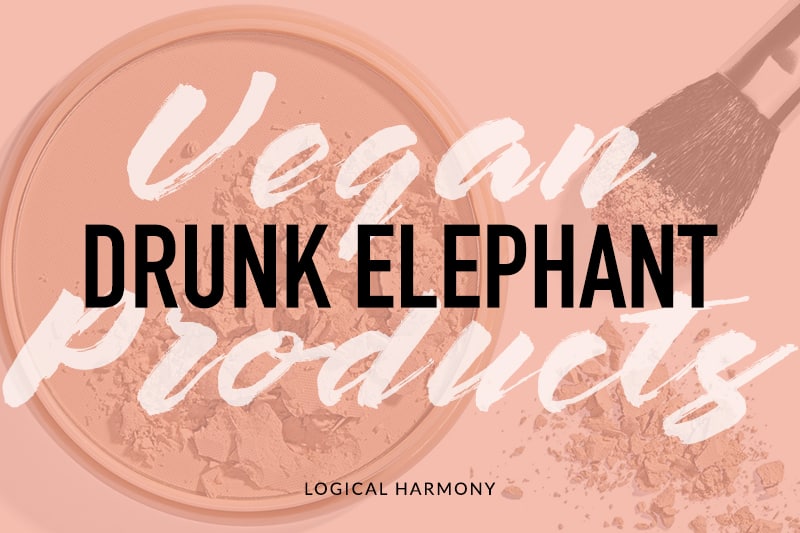 Looking for a list of Drunk Elephant vegan products? Logical Harmony has you covered!
Drunk Elephant is cruelty-free, but there has been a lot of confusion about their vegan options. The Drunk Elephant T.L.C. Sukari Babyfacial has taken the beauty world by storm, and their Virgin Marula Luxury Facial Oil is one of the most raved about facial serums out there. They can be found at Sephora, Cult Beauty, Space NK, MECCA, and MECCA Beauty. With worldwide distribution and being known as a disruptor in the skincare game, the hype around Drunk Elephant has continued to grow over the years. But, what are the Drunk Elephant vegan-friendly products?
I talked to the brand in-depth about the ingredients that they use and they provided me with a full list of vegan Drunk Elephant options to share with you. Curious what the Drunk Elephant vegan-friendly product options are? Keep reading!
Some of the best-selling Drunk Elephant vegan products are:
Is Drunk Elephant Cruelty-Free? Yes! Drunk Elephant is cruelty-free.
Drunk Elephant is cruelty-free. They do not test on animals at any point, nor do they hire any 3rd parties to test on animals on their behalf.
They are owned by Shiseido (as of October 2019) and Shiseido is not cruelty-free. I think everyone should decide for themselves how they feel about parent companies who test on animals. Supporting any cruelty-free brand is better than purchasing products from a brand that tests on animals.
Are all Drunk Elephant products vegan? No.
While Drunk Elephant is cruelty-free, they are not completely vegan. You can find a full list of Drunk Elephant vegan products below. This list is kept as up-to-date as possible but please double check ingredients before purchasing as sometimes formulations do change. What's the difference between cruelty-free and vegan? Find out in the linked article.
Drunk Elephant does not do a great job of making it clear what animal and animal-derived ingredients they use on their website. Currently, they use beeswax and honey in their products. Some products also contain acetyl glucosamine, which is sometimes derived from a vegan source and sometimes not.
Currently, their FAQ page states, "Some of our products might fit the profile of being vegan and/or gluten-free, but not all of them do. If you have a gluten allergy or intolerance, please consult the ingredient decks and your doctor before using any Drunk Elephant products. If you are vegan, please consult the ingredient decks for animal-derived ingredients."
Drunk Elephant Vegan Products:
The following Drunk Elephant products are not only cruelty-free but also vegan. This means they do not contain any animal ingredients or animal-derived ingredients such as honey, beeswax, silk, acetyl glucosamine from animals, and others.
Where can you find Drunk Elephant?
Find Drunk Elephant on their own website, Cult Beauty, MECCA, MECCA Beauty, Sephora, and Space NK. If you're shopping online, sign up for Rakuten and get cash back on your purchases.
Some of the best selling Drunk Elephant vegan products are:
Editor's Note: By using the affiliate links in this post you are supporting Logical Harmony! How does it work? When you purchase a product through one of these links Logical Harmony gets a small commission at no extra cost to you. This is a very large part of what keeps Logical Harmony running – Thank you!