COOLA Rosilliance BB Cream Review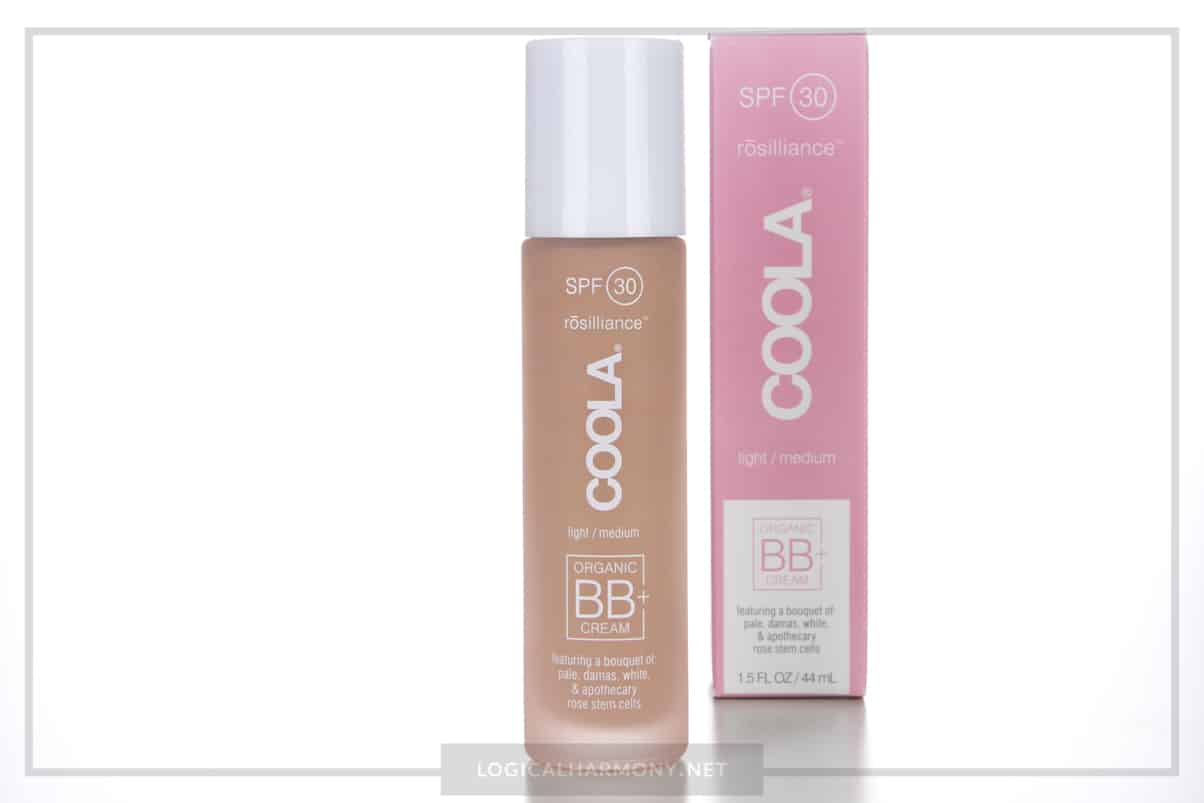 I have been on a bit of a foundation, BB cream, and CC cream shopping binge lately. Because I love the sunscreens from COOLA, I picked up their COOLA Rosilliance BB Cream to try out as well. This tinted moisturizer has all the benefits of their sunscreens but also claims to perfect skin tone and moisturize skin. I was eager to try it out and see how well it worked.
Claims: "COOLA R?silliance™ SPF 30 BB+ Cream is our skin-perfecting tinted moisturizer to help boost your naturally luminescent glow and support fresh, healthy-looking skin. Our mineral broad spectrum SPF 30 formula offers a barely-there feel, while a sheer tinted coverage blends and perfects your skin tone. A proprietary bouquet of Rose Stem Cells offers an advanced bio-complex to smooth, moisturize and replenish your skin's natural resilience and improve visible signs of aging for radiant, soft and youthful-looking skin."
Ingredients: Titanium Dioxide (Sunscreen) 5.6%, Aluminum Hydroxide, Caprylhydroxamic Acid, Caprylyl Glycol, Carthamus Tinctorius (ORGANIC Safflower) Seed Oil, Citrus Aurantium Dulcis (ORGANIC Orange) Fruit Water, Cocoglycerides, Commiphora Myrrha Leaf Cell Extract, Cucumis Sativus (ORGANIC Cucumber) Fruit Extract, Dicaprylyl Carbonate, Euterpe Oleracea Pulp (ORGANIC Acai) Oil, Flavor, (ORGANIC) Glycerin, Helianthus Annuus (ORGANIC Sunflower) Seed Extract, Helianthus Annuus (ORGANIC Sunflower) Seed Oil, Hydrogen Dimethicone, Hydrolyzed Wheat Protein / PVP Crosspolymer, Hydroxyethyl Acrylate/Sodium Acryloyldimethyl Taurate Copolymer, Iron Oxides, Mica, Octyldodecyl Oleate, Oryza Sativa (ORGANIC Rice) Bran Oil, Plankton Extract, Propanediol, Rosa Alba Leaf Cell Extract, Rosa Centifolia Leaf Cell Extract, Rosa Damascena Leaf Extract, Rosa Gallica Leaf Extract, Rosmarinus Officinalis (ORGANIC Rosemary) Leaf Extract, Sodium Citrate, Trisodium Ethylendiamine Disuccinate, Water, Xanthan Gum Organic Ingredients: Acai Berry Oil, Cucumber Fruit Extract, Glycerin, Orange Fruit Water, Rice Bran Oil, Rosemary Leaf Extract, Safflower Seed Oil, Sunflower Seed Extract, Sunflower Seed Oil
Pros: Hydrating formula. Sheer coverage that helps even out skin tone. Easy to apply. Comes in chic packaging. Contains SPF 30.
Cons: Does not provide much coverage. Can look or feel greasy on some skin types.
Is COOLA cruelty-free? Yes. COOLA is cruelty-free with vegan options (find a full list of COOLA vegan products here).
Is the COOLA Rosilliance BB Cream vegan? Yes. The COOLA Rosilliance BB Cream is vegan.
The Verdict: The COOLA Rosilliance BB Cream is a product that I had really high hopes for. Based on the product claims, the stylish packaging, and how pigmented the formula seemed when it first came out of the bottle… I was expecting an amazing BB cream. Sadly, I was disappointed. I have used COOLA sunscreens for years and they are some of my favorites. I even have their tinted sunscreen that I have used as a BB cream before. I think that the tinted sunscreen had more pigment than the COOLA Rosilliance BB Cream and I enjoyed the matte finish.
I can see the COOLA Rosilliance BB Cream being a good option underneath makeup for when you want a slightly tinted SPF option or for when you're spending the day out on the water. The formula is really hydrating and it feels really nice on the skin. It did help to add a little bit of coverage to my skin that did help to even out my skin tone, but it looked like I wasn't wearing any makeup at all still. I wasn't expecting it to compare to normal foundation, but given how pigmented a lot of BB creams are I was expecting a bit more coverage. I have combination-dry skin and it was very greasy looking on my skin before I applied powder.
All that said, just because it wasn't my favorite BB cream doesn't mean that it's not worth trying. It may be an amazing fit for the needs of someone else. It would be a good BB cream to use under another foundation, liquid or powder, to really help keep your skin moisturized. If you're looking for a very light coverage BB cream or a way to easily add SPF into your beauty routine, this is a great option to try out.
Have you tried the COOLA Rosilliance BB Cream before? What did you think of it?
The COOLA Rosilliance BB Cream is available from COOLA and Sephora. Some of the merchants mentioned in this post work with Ebates. Ebates is a great tool to use when shopping online because it lets you get cash back on your purchases. Sign up for Ebates now and start saving!
Editor's Note: This post contains affiliate links. This means that Logical Harmony will receive a commission from items purchased through these links. This helps keep Logical Harmony running, and we appreciate your support.