Decorate My Spooky Mid-Century Modern Home Office with Me & Article!
Working from home can be tough. Sometimes it feels lonely. Sometimes it's challenging to get anything done. But, most of the time, it's absolutely great. Having a good space that's set up for how you work is key. I've tried many things over the years. Small spaces, large spaces, work-only spaces, and having my desk in my bedroom. I think that I've found a good balance of my needs and am settling into a new home office. I've been sharing more and more lifestyle content on my other channels, and want to start doing so here as well.
In doing so, I get to work with Article again! Thank you so much to Article for sponsoring this blog post. Their mid-century style is my favorite and they make so many pieces that can just completely change the look and feel of a room. Their modern style is an easy way to make your space beautiful. They make high-quality articles that stand the test of time, and at a great price too. I have other articles from past collaborations that have held up so well over time. I've also purchased some articles from them too. That said, all opinions in this post are my own and any thoughts I'm sharing here about the pieces are my own as well. This post also contains affiliate links. Thank you for using them!
If you follow me on Instagram or YouTube then you know that I recently moved. Not only am I exploring a relatively new-to-me part of the country, but I'm also in a bigger space again. It feels amazing to spread out and set down some roots! Part of that also means new spaces to set up.
For my dream office, Article provided me with the amazing Sven Sofa. I picked out this sofa in Grass Green velvet and it's gorgeous. I have been looking at this sofa with wishful eyes for several years now. Then being in a new space… The timing just seemed right to add it to my home. It felt like a perfect fit for my office space.
This time around, I didn't want my office to feel like the average home office. I wanted it to be the right amount of cozy, spooky, and serious so that I could work, watch movies, read a book, hang out with the cats… Just live in my workspace as much as I wanted to. Right now, I'm set up with the Article Vena Cafe Table as my desk. I love the space that it gives me without feeling like a desk. I wanted to continue that feel throughout the whole room.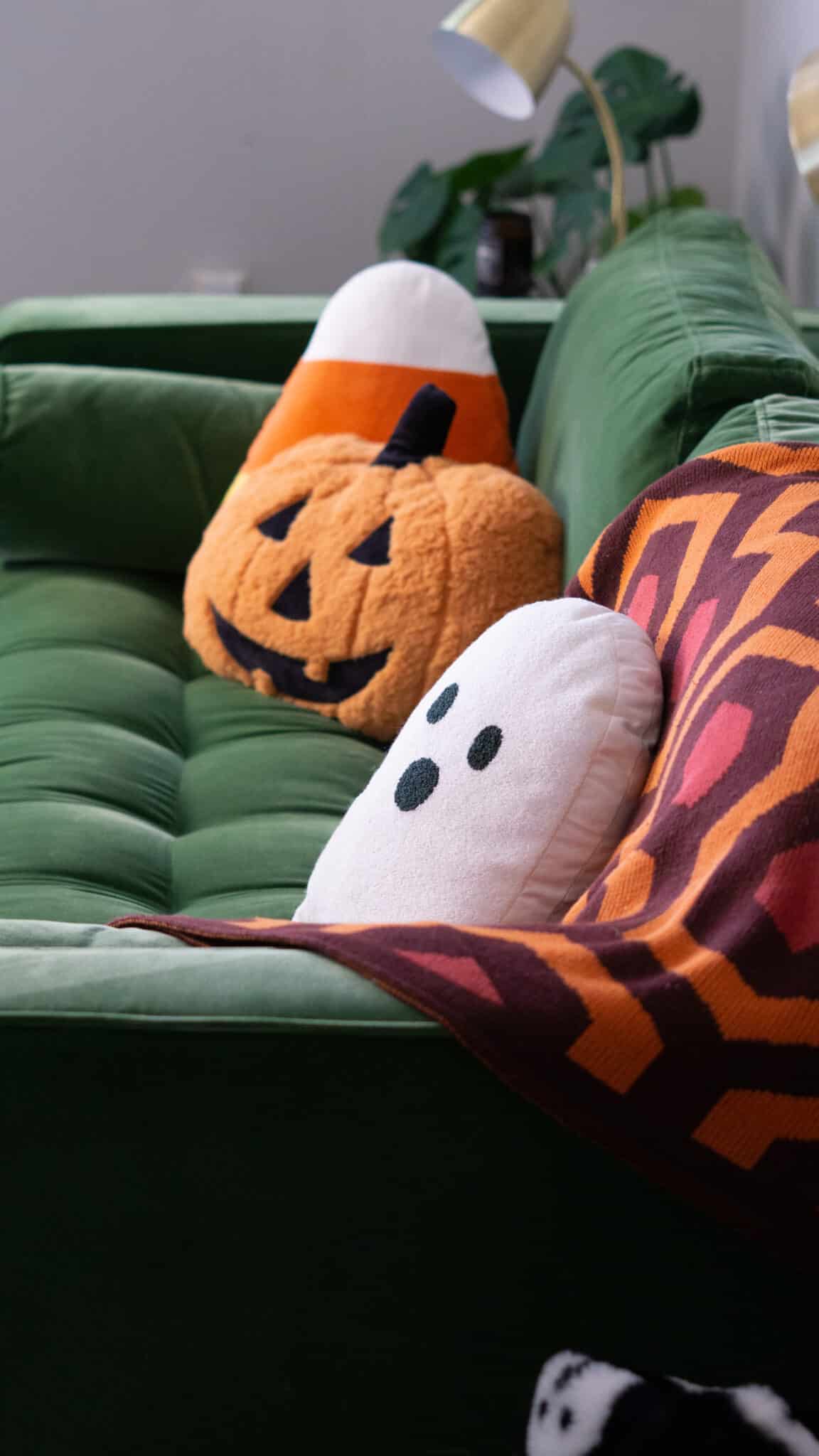 Not only is the Article Sven Grass Green Velvet Sofa a beautiful dark green velvet, but it has a lot of features I wanted in a sofa. The assembly was easy and only took a few minutes. The velvet is made from cotton, and the sofa is high-density foam with polyester filling. It has a sturdy corner-blocked wooden frame that feels really strong, and I love the shape that it gives. The bolsters, seat cushions, and back cushions all come off for easy fluffing and cleaning. It's really an article that is both beautiful and also completely practical. Even though it's, you know, the most grand mid-century velvet sofa one could ask for.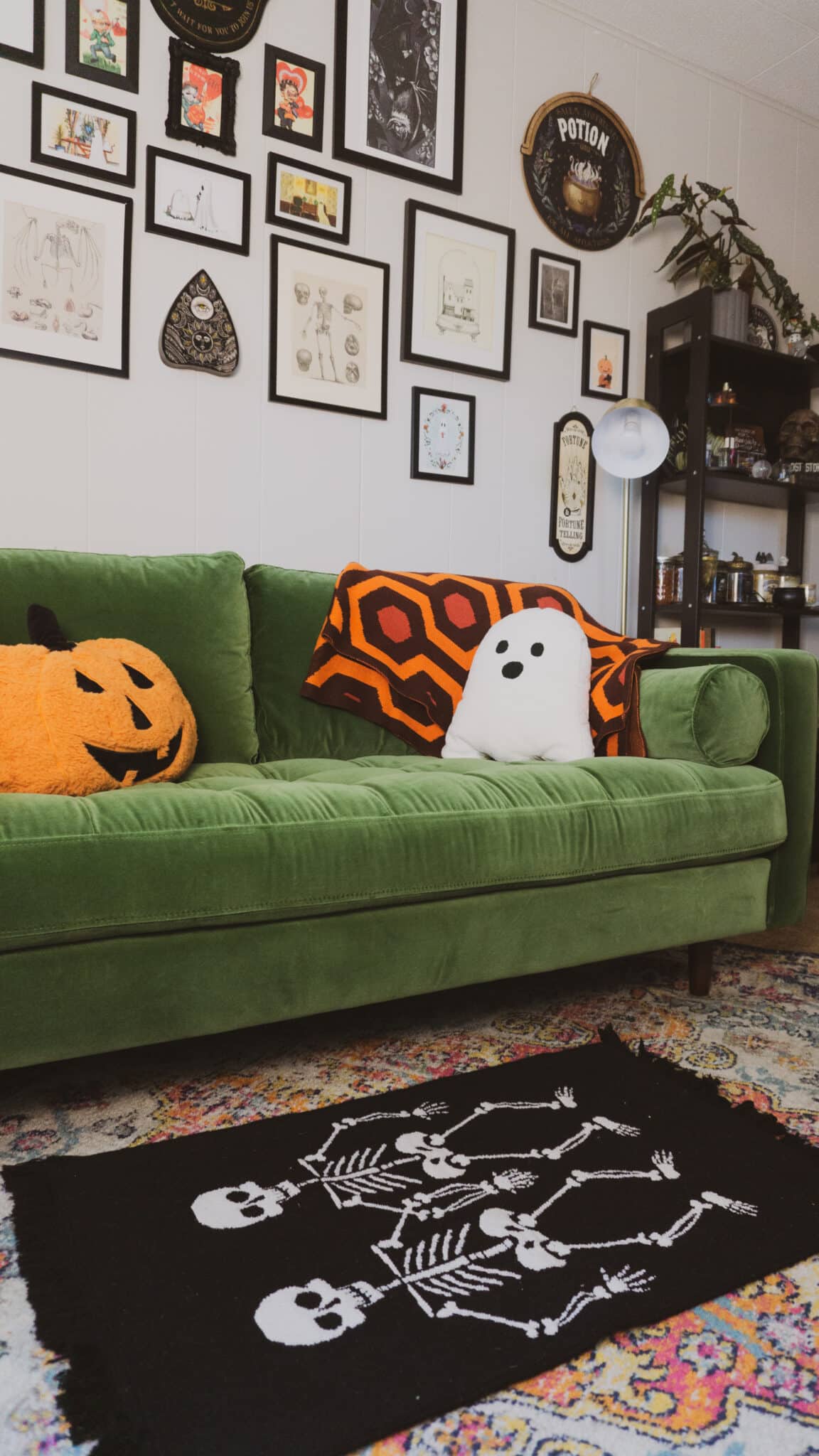 If you want to come along with me while I set up and decorate the space, please do! The video below will show you the process and give you a peek at some close-ups of my decorations and styling picks.
In this video, you can also see that I'm using the following articles that I received from Article in the past. The Article Lissom Brass Floor Lamp, Perforate Brass Table Lamp, Cado Table Lamp, and Silicus Side Table. I've been using them all for several years now and each one has held up so nicely.
I styled the Sven Velvet Sofa with an area rug, small skeleton rug, ghost pillow, candy corn pillow, The Shining throw blanket, and a Jack-O-Lantern pillow that was a gift from a friend. On the wall behind the sofa are prints from Little Spooky Studio, Black Veil Tattoo, Nature by Holly, Tarot & Apothecary Art, and other small prints.
If my blend of mid-century modern with spooky isn't your thing, no worries at all. It's my cup of tea but I know it's not everyone's. Thankfully, the Sven Velvet Sofa is gorgeous with any style of decor. I love it with other fall shades because I feel like they all really complement each other.
Article also offers contactless delivery almost anywhere in the USA and Canada for a flat-rate of $49. Free shipping is available on orders over $999. There are also inside room and assembly services are also available, which can be super helpful. Every product page gives you an estimate of when your articles might arrive. Anything in stock ships quickly too. 
Thank you so much again to Article for sponsoring this post and helping me create such an amazing workspace! This post also contains affiliate links. Thank you for using them!