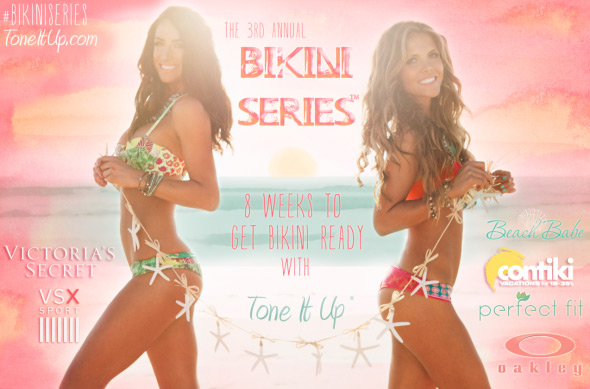 One decision I made this year was to finally get serious about fitness. This seems to be something that everyone struggles with. You promise yourself you're going to work out, buy the gear, maybe last a week or two and then go back to nights on the couch. After years of accumulating fitness DVD's and various bits of equipment, I decided that this was the year to put it all to use. Then I found out about Tone It Up. The timing couldn't have been better!
Tone It Up is a fitness plan mixed with a nutrition plan. I've been using just the free workouts that they provide through the Tone It Up blog posts and the Tone It Up iPhone app. The free version includes daily workouts, YouTube videos, PDF versions of the workouts and recipes. You can opt to also pay for a nutrition plan and buy their own line of vegan, gluten-free protein powder. I haven't purchased they vegan one yet, but have heard nothing but great things from those who have.
What I love about Tone It Up is that it's something everyone can do.
Each week you get a Tone It Up plan with 5 days of workouts all laid out for you. Each day also includes videos and links to the PDF's if you want to print them out or put them on your phone. Since you can see what's coming up, you can psych yourself up ahead of time! This is where the app is really helpful as well – you can set it so that it updates at a certain time of day to keep you on top of your workout and motivated! You can view an example of a typical week here.
The weekly plan also always comes with recipes! A lot of them are vegan friendly, or can easily be made vegan friendly. Check out the Bikini Bite Tacos and Lemon Zucchini Muffins. Both recipes are vegan and an example of how awesome the recipes they provide are. A lot of people expect it to be diet food but it's not. Just real and healthy food. The recipes also include smoothies, juices, and juice shots.
The routines are short, about 7-15 minutes on average, with instructions to repeat each one 2-3 times. So even if you only have 10 minutes to workout, you can get an effective workout in. My favorites so far are Love Your Booty, The Bridal Babe Workout, and Love Your Arms. There is also a lot of variety and no two workouts are the same. I tend to get bored with the same routine so this is really helpful for me. I try to do something every day, even if it's just 10 minutes, and have 3 days a week where I do a full workout.
The Tone It Up plan also has a great online community! I haven't signed up for their community yet, but just through hashtags on Instagram I've already found so many wonderful and supportive people! It's really amazing to see so many people helping to keep each other motivated!
There are also lots of online reviews of Tone It Up and their nutrition plans. Two that I found very helpful are from Eat Yourself Skinny and For The Love of Kale.
Have you tried Tone It Up? What were your thoughts?
If you have questions for me about my experiences with Tone It Up, please feel free to leave them in the comments!
Subscribe Here
We'll send you weekly recaps & more!