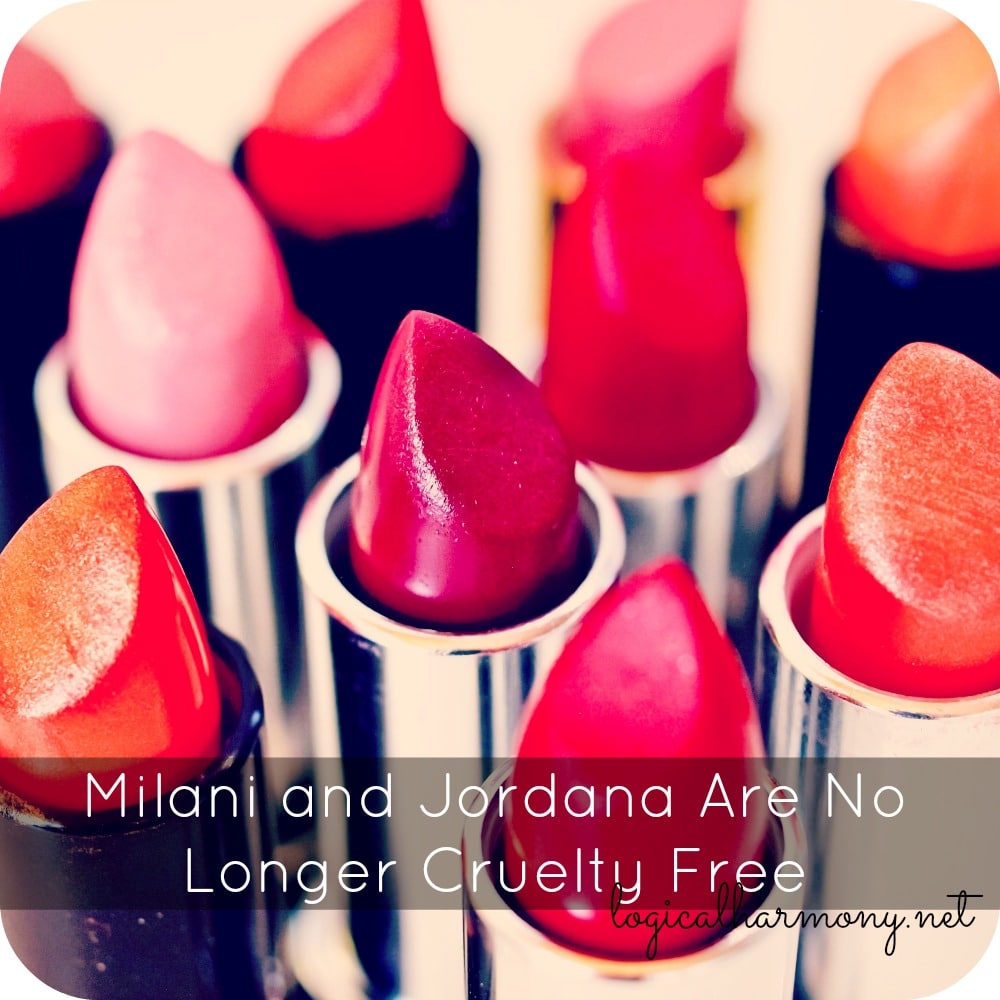 Update December 10, 2014: Milani and Jordana are now re-certified as cruelty free by Logical Harmony! You can read more details here.
After receiving a few reader inquiries about Milani and Jordana, I decided to check in with the brands on their animal testing stance. Both drugstore brands are very well known and very popular because they have a large range of products at great prices. Milani is owned by Jordana. It has been a couple of months since I have done so and brands can change their stance quickly. Sadly, Milani and Jordana can no longer be considered cruelty free.
What has changed is that they now use ingredients that have been tested on animals. Despite their statement that these ingredients were tested on animals to comply with local laws and regulations, there are many cosmetic ingredients that do not need to be tested on animals. The large list of cruelty free brands shows that animal testing for any reason is unnecessary. Both Milani and Jordana have now been listed as Brand to Avoid on this list.
Below is the email that I received from their customer service department.
Hello,

All Milani finished cosmetic products and formulations have not been subjected to Animal Testing or Re-testing for Cosmetic purposes by or on behalf of Jordana/Milani Cosmetics.

Animal testing for Cosmetic purposes-any animal test or retest carried out on a primarily developed for use in the cosmetics industry or on a material primarily developed for use outside the cosmetic industry where the test is for a cosmetics purpose to provide cosmetic safety or efficacy data or in undertaken for positive listing in EU, for example as a preservative. 

 All animal testing performed with ingredients were done to fulfill the requirements in one or more of the legislations listed below:

Chemical legislation and Dangerous Substances Directive 67/548/EEC

Dangerous Preparations Directive 1999/45/EC

Regulation EC No. 1233/2009 (Chapter V, Article 18) (formerly Cosmetics Directive 76/768/EEC)

Existing Chemicals Regulation (EEC) No 793/73

Risk Assessment Regulation (EEC) 1488/94 as currently in force, and  Technical Guidance Documents

The term Animal is as defined by the 1986 Animals (Scientific Procedures) Act UK.

However, an ingredient may have been subjected to be tested on animals (if it is deemed inevitable or no other alternative method has been validated) by the ingredient manufacturers to comply with environmental regulations/safety efficacy such as TSCA, CEPA, ELINCS, EINECS, REACH, NICNAS, SCCP, etc.
Since the animal testing was done to comply with regional laws and regulations, the brands can still be sold in the EU despite their ban on animal testing. Please read What Does the EU Ban on Animal Testing Mean for Brands Selling Where Testing is Required by Law to learn more. In addition, REACH is a law within the EU that requires animal testing on ingredients used for household items. A lot of these ingredients are also used in cosmetics.
It is very sad that the brands have made this change. Hopefully they will reconsider this change and find new ingredient suppliers that do not test on animals.
Update: Milani is now stating that this information was incorrect and that the team member who was providing it to consumers was doing so in error. However, I cannot get a full and consistent statement from the brand. I will be sure to keep everyone updated.
Another Update: Milani has now added a new FAQ statement about animal testing to their website. "Milani Cosmetics is opposed to any kind of animal cruelty. We are firmly committed to the belief that animal cruelty has no place in the development of effective products. Our suppliers, manufacturers, and outside partners understand Milani's company philosophy, and we have their confirmation that they do not test our products or formulations on animals." This statement is inconsistent with the several statements they have been posting in response to consumers in Facebook. It also only addresses products and formulations, when the original issue was the ingredients used and neither the products or the formulations.
Subscribe Here
We'll send you weekly recaps & more!