The Ultimate Cruelty-Free Foundation Guide (Updated for 2018!)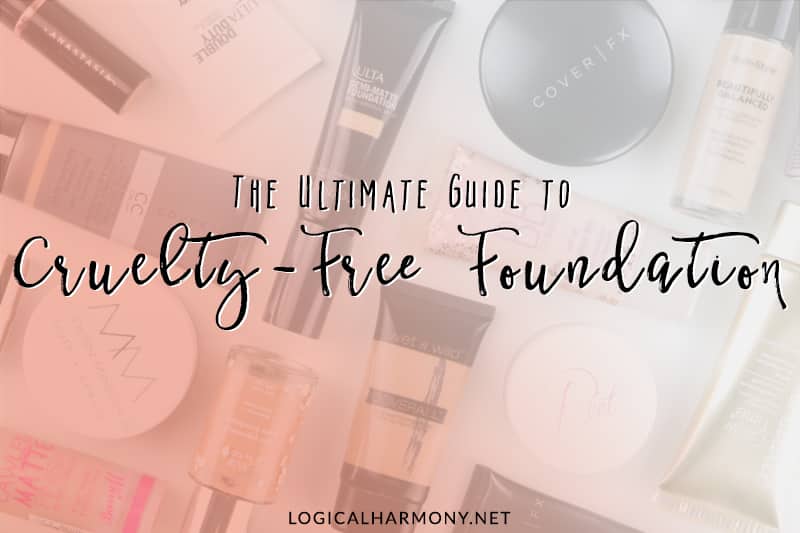 Many Logical Harmony readers ask for help finding a good foundation that is both cruelty-free and vegan. That's why I created this cruelty-free foundation guide! Many people assume that it is hard to find cruelty-free foundation or vegan foundation, but it is actually a lot easier than you may think!
In fact, it can be a little overwhelming once you realize all the options that are available. Whether you're looking for a BB Cream, Tinted Moisturizer, Cream Foundation, Liquid Foundation, Powder Foundation… There are lots of vegan and cruelty-free foundation options!
That's why I decided to create the cruelty-free foundation guide. This guide includes brands that offer cruelty-free and vegan BB creams, CC creams, serum foundations, liquid foundations, mineral foundations, and powder foundations. You can even get them at stores like Sephora, Ulta, Beautylish, Nordstrom, and more.

This is the most recent update of a post I originally published on February 27, 2015.
The following brands are all cruelty-free and have vegan foundation options. Some of these brands offer foundations that are not vegan, so be sure to read ingredients before purchasing. Brands that are 100% vegan are noted.
---
Cruelty-Free BB Creams, Cruelty-Free CC Creams & Cruelty-Free Tinted Moisturizers –
---
Cruelty-Free Liquid Foundation –
---
Cruelty-Free Serum Foundation –
---
Cruelty-Free Powder Foundation (Pressed and Loose) –
---
Cruelty-Free Stick Foundation –
---
Cruelty-Free Cream Foundation –
If you have a favorite cruelty-free foundation that is missing from this list, please leave a comment and let me know! Curious about the cruelty-free status of a brand? Check out the Cruelty-Free & Vegan Brand list!
---
Other cruelty-free shopping guides:
[adrotate group="4″]
Editor's Note: By using the affiliate links in this post you are supporting Logical Harmony! How does it work? When you purchase a product through one of these links Logical Harmony gets a small commission at no extra cost to you. This is a very large part of what keeps Logical Harmony running – Thank you!